Soft Touch Magnets
DoorShox magnetic feet are encased in super soft silicone like rubber that will not scratch your paint.* The rubber coating on DoorShox is designed resist dirt and debris unlike fabric or felt covered car door protectors. *See FAQ for more details
Security Cable
As a theft deterrent, every DoorShox comes equipped with a security cable. The vinyl coated aircraft cable is cut resistant, and thin enough so it fits in the doorjamb when the door is closed. The security cable attaches via suction cup to the inside door window glass.
Impact Arch Design
The patented bridge design enhances the DoorShox's natural ability to flex. When DoorShox is struck the impact arches compress and spring back to their original form, providing maximum shock absorption. DoorShox is designed to contour to your vehicles body panels for the best fit.
Universal Fit
DoorShox flexibility is one of it's best features, allowing the guard to conform better to your vehicle's body, providing a glove like fit. Whether your car has bulging doors or flared fenders DoorShox will flex to provide the best protection.
Modular Design
DoorShox is modular by design, providing the ability to replace the suction cup if necessary. Using only top quality suction cups (made in the USA), DoorShox is adaptable and functional for all car door protection needs.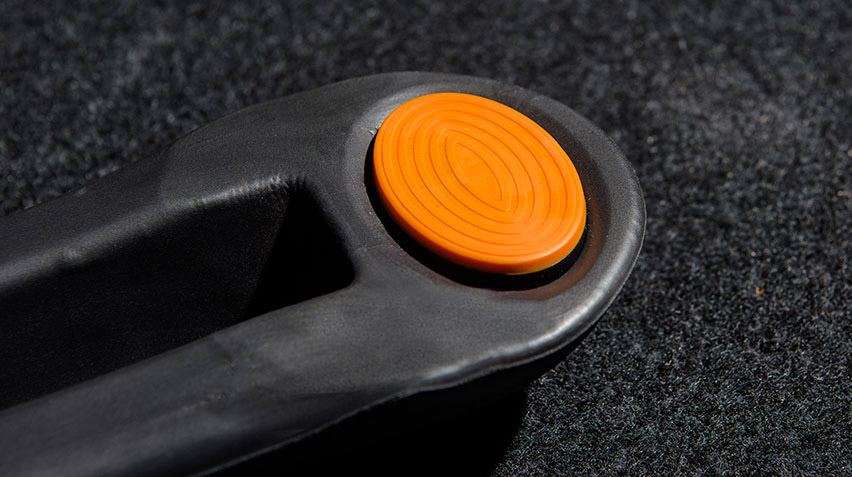 Raised Rib Foot Design
DoorShox feet, which encase the rare-earth magnets, are made of super soft silicone with a ribbed texture to provide additional cushioning and raise the feet of the product off the door. By keeping the feet raised off the door, the soft silicone adds an additional layer of protection between the DoorShox product and the vehicle door.

Matte Texture
The matte black finish of DoorShox enables it to blend in with any vehicle providing maximum protection. While blending nicely with any color vehicle, DoorShox aides in protecting your vehicle against damage from door dents and dings.